Our Goal is to give You the Most Pain Relief Possible From Every Medical Massage Session.
.
At Kneaded Therapy, we are committed to offering all our Ft. Lauderdale neighbors  the best and latest Medical Massage techniques to maintain a Pain Free Healthy and Vibrant lifestyle.
.

.It's also our goal to educate not only our patients but also all our south Florida neighbors  on the remarkable benefits a professional, medical massage treatment has to offer.
.One thing you will not find on our website or when you visit our ft Lauderdale massage clinic is a menu with different massage techniques and prices for you to choose from. Don't get me wrong if you prefer a specific modality we'll be happy to accommodate. Our therapists are state licensed and experience in a wide range of techniques.
Customized Massage in Ft. Lauderdale



.

However, that's where our similarities end in comparison to the way most massage therapists approach their Massage treatments…You see, one thing I've tried and tested with great results over the past 20 years is the fact that a single massage technique applied to the whole body will not get you optimal results.
.

Let me explain, let's say you're suffering from a stiff neck, lower back pain or maybe a sore shoulder so you make an appointment to visit a massage therapist. In this case most therapists will probably recommend a specific single technique treatment such as deep tissue massage. However, today you're also having sinus symptoms, a pinched nerve, headache or maybe pain from sciatica.

.

In this case a combination of several modalities would be the right choice for optimal pain relief from that one massage session but since most therapists have different prices for different modalities they will either charge you extra for applying the different modalities in your massage session or may not even mention anything at all.
.

Think about this for a minute, whichever single massage techniques the therapist recommends to treat all your symptoms will give you some relief…
However, it will NOT Maximize the level of pain relief you could achieve from that One session if the therapist would combine and use the best suited techniques to treat your different problem areas
.

Examples of Single Massage Techniques
Deep Tissue Massage – This technique uses slow strokes and strong pressure on the deeper layers of muscle tissue. The goal is to release tension there. However, the deep pressure can cause some soreness, so it's not for everyone.
Myofascial Release – This approach uses long, stretching strokes to release tension in the fascia, the connective tissue around the muscles.
Trigger Point Therapy – This method uses concentrated finger pressure on knots of tension or pain that can trigger pain elsewhere in the body.
.

So, how is Kneaded Therapy different from all other massage therapist, massage clinics or spas?
We Customize Every Massage Treatment to Maximize Our Patient's Individual Results.
.Every patient that visits our Ft. Lauderdale clinic will receive a customized massage treatment tailored to produce optimal results for your specific needs. We'll utilize any combination of techniques where it's most beneficial to give you Optimal Pain Relief in every session.
All for One Low Rate$$$
.We have been testing and perfecting our unique approach of creating customized Medical Massage Treatments for our south Florida clients with incredible proven results for over 25 yrs. So you'll never have to worry about choosing one technique over the other. Leave that to the professionals.
.We're so confident in our ability to help improve your bodies aches and pains that we offer all new patients an Introductory Customized Therapeutic Medical Massage a $35.00 Value Absolutely FREE. Call and Schedule your Free Massage today: 954-772-2977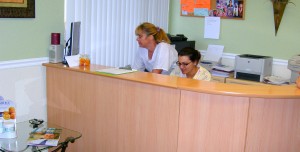 .
On your first visit to our massage clinic One of our therapist will consult with you and take a health profile on your symptoms, medical history, what you would like to achieve from the massage and the desired time of the treatment.
.Equipped with that information our therapists have the experience, training and ability to create a customized medical massage treatment that draws on a range of techniques, each used where it is most beneficial in order to eliminate your pain and achieve "Optimal Results"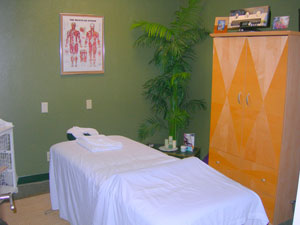 .
The therapist will then take you to the treatment room and instruct you get undressed to your comfort level, some people remove all their clothing, some don't, we leave that up to the individual to ensure their comfort, then get on the table using a large towel  provided to completely cover your body.Our Massage Clinic Ensures Complete Draping, Cleanliness, Warmth and Comfort. The therapist will then leave the room to give you time to get undressed and on the table.
.

The therapist will always knock to make sure you're ready before entering back into the room to begin the treatment. The therapist will then fix the draping make sure you're comfortable and place a heating pad on your back. Throughout your first treatment your therapist will be asking questions about your specific pain & pain patterns and making sure the pressure is OK then informing you of the issue at hand and the best course of treatment.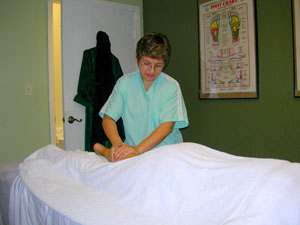 .
..Some parts of our massage treatment may be uncomfortable when large amount of lactic acids (knots) are released from inflamed muscle tissue.
After the massage treatment your therapist will tell you to RELAX and take your time getting up, occasionally some people are light-headed from the increased circulation.
At this time your therapist will leave the room and wait for you in the lobby with a glass of water and suggestions for further improvement and treatments. You can then get dressed, take your time this is the last place we want you to feel rushed.
.

After the Massage Treatment – Usually with the initial couple of treatments there is some soreness for a day or two while the body regains balance and circulation.
We recommend ice, passive stretching and lots of water, water, water the more water you drink the better the flush and less soreness is experienced.
Experience the Difference a Customized Medical Massage can make on Your Body's Aches and Pains. Fill Out the Contact Form Below or Call us at 954-772-2977 and Reserve Your FREE Massage Today
FREE Customized Massage Contact Form
Kneaded Therapy
Lic# MM12664
2746 E. Commercial Blvd. Fort Lauderdale, FL. 33308
954-772-2977
support@kneadedtherapy.com